Door Daan de Wit

Voormalig burgemeester van New York Rudolph Giuliani, de ultieme ervaringsdeskundige bij oefeningen-die-toevallig-werkelijkheid-worden, kon Londen bijstaan omdat hij daar aanwezig was, zelfs vlakbij de plaats waar de eerste bom afging.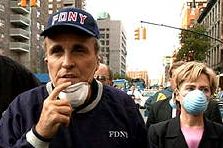 De oefeningen-die-toevallig-werkelijkheid-werden* in New York op 11 september hebben een uiterst waardevolle deskundige opgeleverd, namelijk Rudolph Giuliani, de toenmalige burgemeester. De man die in New York toentertijd leiding gaf aan het managen van de crisis in zijn stad, was op het moment van de
aanslagen
in Londen
aanwezig
opgericht
'
Giuliani Partners
[...], a security consultancy and investment bank', waarmee hij dezelfde weg heeft bewandeld als voormalig medewerker van de anti-terrorisme-eenheid van Scotland Yard, de in het vorige deel van dit artikel genoemde Peter Powers die met zijn Visor Consultants de oefening-die-werkelijkheid-werd leidde op 7 juli in Londen
.
Powers moest doormaken wat Giuliani al had doorgemaakt en gelukkig was Giuliani in de buurt.
vlakbij het metrostation waar de eerste bom ontplofte en kon met zijn unieke expertise de Britten van dienst zijn. Giuliani heeft van de nood op 11 september een deugd gemaakt en heeft
*
Lees
in DeepJournal meer over de wargames die op 11 september 2001 de verdediging van de VS platlegden.
Oefening 2004 als voorbereiding bij oefening 2005
Giuliani vanuit Londen
tegen
MSNBC:
'It seems to me that the emergency services here in London were prepared for this. I don't mean prepared for the exact day, but prepared for something like this happening.
I think they expected this to happen. Unfortunately, they didn't know the day or the hour but they expected this to happen.' Geheel onvoorbereid waren de ontwerpers van de Londense oefening-die-toevallig-werkelijkheid-werd niet. In april dit jaar werd een transatlantische oefening gehouden 'which included 'bombs' being placed on buses and explosives left on the London underground',
schrijft
The Observer:
'The anti-terror drill, codenamed Exercise Atlantic Blue [...] concentrated on testing security weaknesses in the transport system.'
Londen, juli 2005: Giuliani en ex-CIA-agent Robert Kiley
Giuliani was 'just yards from Liverpool Street [...] station, when the bombs went off',
schrijft
Fox News. Gevraagd naar hoe hij zich voelt,
zegt
Giuliani vanuit Londen: 'I'm not sure Lester. I don't know. There is a certain question I have in my mind:
Why was I so close both times? ... Obviously there was no connection, but only God can answer questions like that, I guess.'
Fox News
citeert
Giuliani als hij over de aanslagen zegt: '"They are a very eerie reminder of Sept. 11. I was right near Liverpool [Street] station when the first bombing took place, so I could hear the sirens and then kept hearing reports of different bombings, in different parts of the city," he told Sky News television. Mr. Giuliani was in the City as the Underground system was evacuated and roads were closed in a rush of emergency vehicles and evacuations.'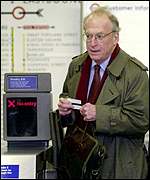 Dat het zo gesmeerd liep als Giuliani zegt, kan mede hebben gelegen aan
Bob Kiley, nu
Commissioner
of Transport for London, in vroeger dagen een
vrij hoge
CIA-agent
. Giuliani is geen onbekende van Kiley, de
redder
van de Underground, sterker, hij mag 'm graag:
'London
Mayor Ken Livingstone today welcomed the intervention of his New York counterpart after he backed London's Transport Commissioner Bob Kiley. New York Mayor Rudolph Giuliani defended Transport Commissioner Robert Kiley after Deputy Prime Minister John Prescott's office released figures claiming the New York subway was far less safe than the Tube. Mayor Giuliani's press secretary said Mr Kiley was "an incredible asset to New York City"', aldus dit
persbericht
van
de burgemeester van Londen. Over de CIA en de London Underground gesproken: de CIA en Bechtel hebben al vaak
samengewerkt
; Bechtel is
onderdeel
van een trio bedrijven dat de Underground gaat opknappen.
Rechterhand Giuliani is goede bekende van Peter Power

De uitspraken van Peter Power -de man achter de oefening-die-werkelijkheid-werd in Londen- stonden centraal in de vorige twee delen van deze DeepJournal. Rudolph Giuliani en Peter Power hebben een gemeenschappelijke vriend, te weten Richard Sheirer. Sheirer was de rechterhand van Giuliani en was op en rond 11 september 2001 de baas van
OEM
, 'the major's Office of Emergency Management', schrijft Mike Ruppert op pagina 406 in zijn
boek
Crossing the Rubicon.
'He's the guy Giuliani calls "the man behind the curtain."
He's the wizard of OEM',
schrijft
New York Metro.
Sheirer en Power zaten beiden in de adviescommissie van CCEP, het Canadian Centre for Emergency Preparedness.
Giuliani is
Knight Commander
onder de Order of the British Empire. Sheirer
is
Commander of the Most Excellent Order of the British Empire. En: 'Mr. Sheirer
is
a Senior Vice President at Giuliani Partners'.
Verdachte rollen Giuliani en Sheirer op 11 september
Op 11 september opereerde Giuliani vanuit het Emergency Command Center op de 23e verdieping van WTC-gebouw 7. Het commandocentrum had een eigen luchttoevoer, brandstoftanks en bomvrije ramen. WTC 7 was een groot gebouw van veertig verdiepingen, is niet geraakt en toch ingestort, en wel rechtstandig, zoals bij een sloop [zie video
1
2
, WMV].
Alsof hij dit drama had zien aankomen konden Giuliani en zijn team gewoon doorgaan met functioneren omdat toevallig een groot backup-operatiecentrum was gecreëerd in verband met de oefening Tripod II die de volgende dag zou worden gehouden, mede onder leiding van Giuliani en Sheirer. Eerder op 11 september had Giuliani ook al een vorm van voorkennis mogen genieten, namelijk over het instorten van de WTC-torens. Dat instorten was gezien de solide structuur van de torens volkomen onvoorstelbaar en wordt tot op de dag van vandaag aangevochten omdat
bommen
de WTC-torens zouden hebben neergehaald.
'Before either of the twin towers collapsed, Mayor Rudolph Giuliani and his associates were told to leave the headquarters they had set up within Building 7. "We were operating out of there when we were told that the World Trade Center was gonna collapse," Rudolph Giuliani told Peter Jennings of ABC News that morning, "and it did collapse before we could get out of the building." Despite this, Giuliani fled WTC 7 at least eight hours before it collapsed. How did he know that the twin towers were going to collapse if it was such an unprecedented occurance? Why didn't the firefighters on the ground get the same warning?',
schrijft
Prison Planet.
Giuliani en anthrax
Een ander bedrijf van Giuliani nam deel aan het opruimen van het miltvuur dat was opgestuurd naar de tabloid Sunday; de aanslag op de krant was deel van een reeks aanvallen die de VS een tijdlang in angst hield.
CBS
schrijft
: 'The cleanup is being led by BioONE, a company established by former New York City Mayor Rudolph Giuliani and Sabre Technical Services, which decontaminated other buildings hit by anthrax attacks.' Eerder
schreven
we dat volgens de Washington Post de anthrax-sporen overeen kwamen met die uit de legerbasis
Fort Detrick
. Deze
combinatie van aanslagen en het leger
lees je ook terug in een kop bij het
vorige deel
van onze serie over de aanslagen in Londen:
Bommen gemaakt met militaire explosieven.