Door Daan de Wit
Een antwoord op de vraag waarom Iran nog niet is aangevallen door de VS, ligt in de verslechterende situatie in Irak die ruimte biedt aan Condoleezza Rice om tegen de visie in van Dick Cheney onderhandelingen een kans te geven. Newsweek
schrijft
: 'One by one, the Cheneyites have been losing significant supporters in the top ranks of the administration—most recently White House deputy national-security adviser J. D. Crouch, a conservative former Pentagon official and academic who left last week. To thwart the hard-liners once and for all, though, Rice knows that she must start to deliver.' Rice wordt naast een steeds meer morrende bevolking geruggesteund door kritiek uit eigen gelederen, zoals conservatieve zwaargewichten als
Henry Kissinger
,
James Baker
,
Zbigniew Brzezinksi
en
Lawrence Wilkerson
en zich kritisch
uitlatende
hoge militairen; eigenlijk iedereen behalve de harde kern van de neoconservatieven binnen en buiten de Amerikaanse regering.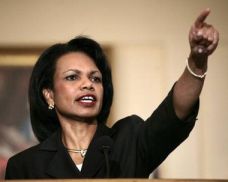 Het is de vraag welke van deze twee partijen uiteindelijk de overhand gaat krijgen. Beide partijen maken een kans, maar de laatst genoemde partij is de groep mensen met de hand aan de knop. Zij hebben nog bijna twee jaar om een glorieus einde te bewerkstelligen aan hun regeerperiode en aldus een voortzetting te kunnen forceren van hun beleid, ongeacht of zij worden opgevolgd door een Democratische president. Intussen
bijt
Rice van zich af: '"The president of the United States has made it clear that we are on a course that is a diplomatic course,"
Ms. Rice
said here. "That policy is supported by all of the members of the cabinet, and by the vice president of the United States."'
Militaire oplossing is doel neoconservatieven, buiten het Witte Huis...
De hardliners binnen en buiten de Bushregering blijven naar ingangen zoeken voor een openlijke confrontatie met Iran. Buiten de regering neemt het ongeduld toe.
Bijvoorbeeld
bij Bill Kristol. Geen wonder, al in 2003
riep
deze
medeoprichter
van het Project for the New American Century op tot
actie
in zijn tijdschrift The Weekly Standard en in november vorig jaar zei hij te
verwachten
dat een oorlog niet ver af zou zijn. Neoconservatief icoon en lid van de Council on Foreign Relations Norman Podhoretz
is
het met hem eens: '"I believe," Podhoretz told the Israel Broadcast Authority on May 24 (see video below), "contrary to what many people assume, that [Bush] will [attack Iran] before he leaves office, possibly shortly before he leaves office," thus leaving the political fallout to the incoming president, more than likely a Democrat. "[...] there is no alternative to military action."' Om zijn visie te accentueren
vergelijkt
Podhoretz Irans president Ahmadinejad met Adolf Hitler, een weinig subtiele poging het debat te beïnvloeden die ook
John Bolton
, de voormalig ambassadeur van de VS bij de VN heeft ondernomen, evenals
Benjamin Nethanyahu
, Israëls oppositieleider.
... en er binnen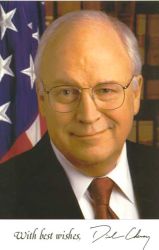 Binnen de Bushregering wordt de agressieve variant van het anti-Iraanse gedachtengoed het sterkst vertegenwoordigd door vicepresident
Dick Cheney
: 'In the last few weeks, Cheney's staff have unexpectedly become more active participants in an interagency group that steers policy on Afghanistan, according to an official familiar with the internal deliberations. During weekly meetings of the committee, known as the Afghanistan Interagency Operating Group, Cheney staffers have been intensely interested in a single issue: recent intelligence reports alleging that Iran is supplying weapons to Afghanistan's resurgent Islamist militia, the Taliban, according to two administration officials who asked for anonymity when discussing internal meetings',
schrijft
Newsweek. Probleem alleen is dat het shiitische Iran eerder de VS steunde in hun strijd tegen de soennitische Taliban en dat de link waarnaar Cheney zoekt niet te maken is, ook al zijn er wapens gevonden.
Media in maalstroom eerste deel oorlog:
de oorlog
om de stem van het grote publiek
Newsweek
schrijft
over de wapens waar Cheney naar zoekt: 'British officials who asked for anonymity because of the nature of their work emphasize that they lack hard evidence linking the shipments to the Revolutionary Guards, and that the weapons could just as easily have been bought on the black market in Iran'. Dit roept vraagtekens op over de achtergronden van de anonieme 'officials' die de bron vormen van een
artikel
afgelopen zondag in de Washington Post met de kop
Iranian Flow Of Weapons Increasing, Officials Say
. Dit soort artikelen lijken echo's uit de periode van opbouw naar de oorlog met Irak, zoals zo duidelijk is te zien in de
documentaire
Buying the War - How did the main stream press get it so wrong?
Vergeleken met de Washington Post is Reuters in een verhaal over defensieminister Robert Gates een stuk objectiever door boven het artikel te
noteren
:
U.S. says can't link Tehran to Afghan arms flow
.
Professor Juan Cole is
ontevreden
over de suggestieve berichtgeving in de pers over de vermeende Iraanse wapenleveranties: 'The message of administration and military spokesmen is that Iran is deliberately killing US troops and is a major source of insurgency in Iraq. No convincing evidence has ever been presented for either allegation [...] Yet the New York Times and even the Guardian put this b.s. on the front page, and of course it is all over CNN, Fox Cable News, MSNBC, etc. Are US journalists trapped in the the dictates of the military-industrial complex by virtue of working for these mega corporations?' Interessante vraag. Los hiervan zal het niet de eerste keer zijn dat Iran de schuld krijgt van geweld dat uiteindelijk een
westerse achtergrond
blijkt te hebben: 'Terror devices used by the IRA in a vicious murder campaign in Ulster blew up British servicemen [in Iraq] as the world blamed Iran',
kopt
The Independent, die verder schrijft: 'This contradicts the British government's claims that Iran's Revolutionary Guard is helping Shia insurgents to make the devices.'
Provocaties en/of

false flag

-operatie voorafgaand aan conflict
Miles O'Brien van CNN vraagt medio februari aan Hillary Mann, voormalig directeur Iran en de Perzische Golf voor de National Security Council, of de VS zich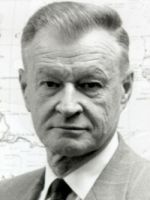 opmaken voor een oorlog tegen Iran. Terwijl onderin beeld de tekst verschijnt 'Bush administration: Picking a Fight?' antwoordt Mann (
videoclip
-
transcript
): '[...] they're trying to push a provocative accidental conflict. They're pushing a series of increasing provocations against the Iranians in, I think, anticipation that Iran will eventually retaliate, and that will give the United States the ability to launch limited strikes against Iran, to take out targets in Iran that we consider to be important.'
Zbigniew Brzezinski
, de voormalig adviseur van president Carter voor nationale veiligheid, zal het met haar eens zijn. Hij gaat zelfs nog verder en
waarschuwt
ten overstaan van een Senaatscommissie voor de mogelijkheid van een
false flag
-operatie: 'A plausible scenario for a military collision with Iran involves [...] some provocation in Iraq or a terrorist act in the U.S. blamed on Iran; culminating in a "defensive" U.S. military action against Iran that plunges a lonely America into a spreading and deepening quagmire eventually ranging across Iraq, Iran, Afghanistan, and Pakistan.' Mann en Brzezinski beschrijven Amerikaanse tacktieken waarvan de rijke geschiedenis onbekend is bij het grote publiek, maar die de uitspraken van beide insiders in een begrijpelijk kader plaatst.
Onderzoek wijst uit: militaire oplossing desastreus
De hoop en verwachting van hen die voor een aanval op Iran pleiten, gaan rechtstreeks in tegen de
bevindingen
van een
onderzoek
[PDF], uitgevoerd door de Oxford Research Group: 'In the report's introduction, Hans Blix, the former chief of the nuclear watchdog International Atomic Energy Agency (IAEA), wrote that "armed attacks on Iran would very likely lead to the result they were meant to avoid - the building of nuclear weapons within a few years."'
Net
als een aantal kritische Amerikaanse hoge militairen
pleit
de groep in een ander
rapport
[PDF] voor onderhandelingen. Dr. Ian Davis, de directeur van
BASIC
,
schrijft
: "[...] an actual working Iranian nuclear weapon remains at least five years down the line. There is time for constructive dialogue. This wave of unsubstantiated media allegations undermines the potential for a diplomatic breakthrough. We hope that this report will put Iran's role in Iraq in context."' Niet iedereen drukt zich zo subtiel uit; de BBC
schrijft
: 'Dr Mohamed ElBaradei, head of the International Atomic Energy Agency, described those wanting to bomb Iranian nuclear facilities as "new crazies".' 'Crazies' is een term die
volgens
voormalig CIA-official Ray McGovern van origine werd gebruikt om in de jaren tachtig de leden van de regeringen Reagan en Bush mee aan te duiden.
Cheney bepalend voor uitkomst confrontatie Iran
In de VS is de macht van de president groter dan vaak gedacht in Europa. De eerder genoemde Wilkerson
noemt
Bush 'the bigger guy' ten opzichte van Cheney en Rice onderstreept dit met een uitspraak in een
interview
met Newsweek: 'There's only one expression that matters, and that's the president of the United States.' Bekend is dat president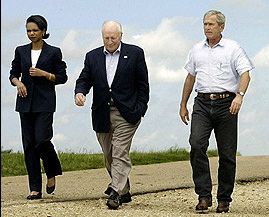 Bush niet het intellectuele en strategische zwaargewicht is dat is vereist voor de functie die hij bekleedt. Dit maakt het minder eenvoudig om in te schatten welke krachten het overwicht zullen hebben in het vormen van zijn uiteindelijke mening. Condoleezza Rice staat dichtbij de president en vertegenwoordigt een brede coalitie. Aan de andere kant is er de invloed van Dick Cheney. Cheney is politiek superieur aan Bush en gebruikt de macht die door Bush aan hem wordt gedelegeerd om zijn eigen politieke beleid te realiseren. Om deze reden is Bush bijvoorbeeld slechts in naam direct verantwoordelijk voor de nasleep van de aanval op Irak en het negeren van de Geneefse akkoorden door de VS, aldus Lawrence Wilkerson, de
voormalig stafchef
van Colin Powell, in een
interview
met PBS. Naast Cheneys politieke invloed is er zijn brute kracht die apelleert aan het basale functioneren van George W. Bush, de man die het boegbeeld is van zijn regering en ongetwijfeld zijn huidige status voor het aflopen van zijn ambtstermijn wil opschonen voor de geschiedenisboeken. Gezien de deplorabele situatie waarin de Bushregering zich ogenschijnlijk bevindt vanwege de situatie in Irak en de schier onafzienlijke lijst
schandalen
, is het alternatief dat mogelijk het gevolg is van de
door Rice
voorgestane onderhandelingen te mager: "we're laying the foundations for someone else to succeed in the future, and I think that's fine."' Aimabel, om te hopen op de goede werken van een toekomstig president, maar in zijn zwakte onacceptabel voor de krachtdadige Cheney.
Ook Bush blaast zijn partij mee in het door Cheney gecomponeerde muziekstuk door zogenoemde zwarte operaties te verordonneren ten faveure van een machtswisseling in Iran: 'Mr Bush has signed an official document endorsing CIA plans for a propaganda and disinformation campaign intended to destabilise, and eventually topple, the theocratic rule of the mullahs', schrijft The Telegraph. Onderdeel van het plan: 'Teheran has been sold defective parts on the black market in a bid to delay and disrupt its uranium enrichment programme, the precursor to building a nuclear weapon.' Hoe vervolgens een atoombom te bouwen is al bekend in Iran dankzij de overdracht van de blauwdruk van zo'n massavernietigingswapen door de VS aan Iran. Ook hierin was een fout verwerkt, zij het een die direct waarneembaar was. Zie voor de details over deze verdachte Operation Merlin deel acht van de DeepJournal-serie over de komende oorlog met Iran. Er is discussie over de vraag of de scoop van ABC over de zwarte operaties van Bush (bovenop de operaties die in deze DeepJournal-serie al zijn beschreven en bovenop het steunen van pro-soennitische groepen tegen Hezbollah) een bewuste poging was het agressieve beleid van Bush en Cheney te ondermijnen.

Oorlog met Iran is onvermijdelijk
Zij die voor onderhandelingen pleiten, gaan uit van een verkeerde vooronderstelling, namelijk dat Iran een soevereine staat kan blijven. Doel is een Iran onder invloed van Israël en de VS. Zonder enige vorm van geweld kan dit doel niet voldoende worden bereikt. Daarbij komt dat de enige manier waarop de Bushregering zich na Irak en alle schandalen nog kan rehabiliteren in de ogen van het publiek is om binnen de deadline van de lopende regeringsperiode op spectaculaire wijze uit het dal te komen. Tezamen maakt dit dat er nog maar één optie open blijft, namelijk de optie die al vanaf het begin het doel was: een aanval op Iran.
-
Aan de research voor dit artikel is bijgedragen door Willem Grooters en Karel Koster.