Het Westen en Iraanse Groene Revolutie - 3
Door Daan de Wit

Bij de recente opstand in Iran vliegen de beschuldigingen over en weer over mogelijke westerse steun aan de demonstranten. Die van Iraanse kant klinken ongeloofwaardig omdat ze afkomstig zijn van een extreem regime, een dat weinig op heeft met de mensenrechten en de schijn tegen heeft. Maar wat zijn de feiten?

De Iraanse Inlichtingenminister Gholam-Hossein Mohseni Ejei zegt eind vorige maand dat 'some people with British passports "had a role in the riots"'. Inmiddels is bekend dat er in Iran een zaak zal worden gevoerd tegen een gevangengenomen lid van de Britse ambassade in Teheran. Mohseni Ejei zegt ook dat 'the suicide bombing on Saturday at the shrine of Imam Khomeini was one in a series of bombings which were planned to cause unrest in the country. In the run up to June 12 presidential election, certain groups, "mostly affiliated to Israel ", sought to carry out bombings in various parts of Iran [video , 4'55"] but the terror agents were arrested by the country's security forces, he added. The Intelligence minister also said a number of people who had long been trying to promote insecurity in the
southern cities of Iran including Ahvaz were arrested. "Israel and certain Western powers, especially the U.S., are behind most of these incidents in Iran," he added'.

Minister Mohseni Ejei doelt hiermee waarschijnlijk op de resultaten van een aanvraag van de Amerikaanse regering in december 2007 bij het Congres voor uitbreiding van de geheime operaties in Iran. Daarover schrijf ik op pagina 175 in mijn boek: 'Bush vraagt en krijgt 400 miljoen dollar voor operaties die zijn beschreven in een uiterst geheime zogenoemde 'presidentiële richtlijn'. Ter goedkeuring moet deze richtlijn worden voorgelegd aan Democratische en Republikeinse leiders in het Congres en aan de belangrijkste leden van de inlichtingencommisies van beide partijen. Een insider zegt in juni 2008 tegen journalist Seymour Hersh dat ''de richtlijn was geconcentreerd op het ondermijnen van de nucleaire ambities van Iran en het ondermijnen van de regering door regimewisseling'. De operaties in Iran worden geleid door de CIA en de JSOC, de Joint Special Operations Command, een onderdeel van de strijdkrachten gespecialiseerd in speciale operaties'. Maar dat was ten tijde van de Bushregering. 

Is onder Obama nu niet alles anders? Twee voormalig adviseurs van Amerika's Nationale Veiligheidsraad maken aan

dat soort illusies snel een eind. Zij schrijven in de New York Times dat de 'Obama administration has done nothing to cancel or repudiate an ostensibly covert but well-publicized program, begun in President George W. Bush's second term, to spend hundreds of millions of dollars to destabilize the Islamic Republic'.
Al een halfjaar voor het vragen en krijgen van de 400 miljoen dollar, zo staat te lezen op pagina 254 van De Volgende Oorlog [bronnen via de website], 'krijgt de CIA dankzij een door Bush ondertekend document de mogelijkheid om propaganda- en desinformatiecampagnes uit te voeren die het regime in Teheran moeten destabiliseren en uiteindelijk doen omvallen. [...] Een paar dagen voordat in mei 2007 president Bush [deze zogenoemde 'zwarte-propagandaoperaties'] autoriseert, arresteert Iran tien leden van Jundullah, een terroristische organisatie die door de VS wordt gesponsord. De tien mannen hadden niet alleen 500.000 dollar op zak, maar ook moderne spionageapparatuur en kaarten van gevoelige gebieden. In mei 2008 arresteert Pakistan zes leden van Jundullah en dreigt ze uit te leveren aan Iran. ABC News schrijft zonder omhaal dat de groep 'in het land een aantal gewelddadige aanvallen op Iraanse legerkwartiers en officiers heeft uitgevoerd' en dat de Amerikaanse inlichtingendienst CIA de uitzetting probeert te voorkomen. Jundullah kidnapt militairen en inlichtingenofficieren in Iran en neemt de executies op op camera. Een aanslag op een bus in februari 2007 waarbij elf leden van de Revolutionaire Garde worden gedood, wordt opgeëist door Jundullah. Bronnen van ABC News zeggen dat dit soort door de VS gesponsorde aanslagen al plaatsvindt sinds 2005. Militair analist Sam Gardiner in juni 2008: 'Er gaat nauwelijks een dag voorbij dat er geen aanslag plaatsvindt. Het afgelopen weekend vonden drie of vier incidenten plaats, en de Iraniërs noemen zelfs de Leden van de Revolutionaire Garde die zijn gedood bij naam.'
Intussen gaan, ook tijdens de Obama-regering, de aanslagen in Iran gewoon door. Jason Raimundo schrijft: 'Obama, with his peace overtures, serves as the smiley-face mask for some pretty loathsome activities. The U.S. government claims to be fighting terrorism, yet is sponsoring groups that plant bombs in mosques, kidnap tourists as well as Iranian policemen, and fund their activities with drug-running in addition to covert subsidies courtesy of the U.S. taxpayers. The recent suicide bombing in Zahedan was the work of Jundallah. These are war crimes, carried out with the full knowledge of the leaders of both parties in Congress, paid for by you and me, and conducted in our name. [...] we're already at war with Iran, and have been for quite a while. It's only a matter of time, and circumstance, before it becomes official'.

Bij de strijd zijn meer groepen betrokken dan alleen de overheden van Amerika en Israël. In mijn boek over de komende oorlog tegen Iran heb ik een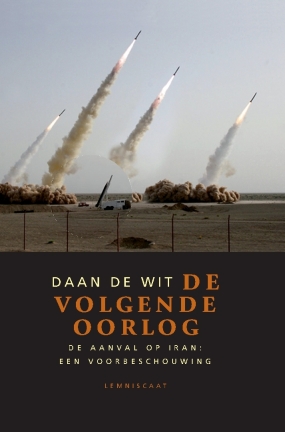 heel hoofdstuk gewijd aan de kluwen van belangenverstrengelingen tussen personen en instellingen binnen en buiten de overheid die zich richten op regimeverandering in Iran. Een van die organisaties is het Brookings Institute. Het wordt door Right Web in een adem genoemd met bekende rechtse denktanks als het American Enterprise Institute, het Washington Institute for Near East Policy en het Jewish Institute for National Security Affairs. Eind juni presenteert het een rapport [PDF] met de veelzeggende titel Which Path to Persia? Het land respecteren voor wat het is, een souvereine staat, is kennelijk geen optie. '[...] ignoring Iran is no longer a realistic alternative—not that it ever was. Tehran is acting on a broad range of issues of great concern to the United States'.  De ondertitel van het rapport: Options for a New American Strategy Toward Iran. Iran wordt gezien als probleem en problemen zijn er om opgelost te worden. Het rapport heeft tot doel iedere mogelijke optie te verkennen. Enkele titels van hoofdstukken. 1. An Offer Iran Shouldn't Refuse: Persuasion; 3. Going All the Way: Invasion; 6. The Velvet Revolution: Supporting a Popular Uprising; 8. The Coup: Supporing a Military Move Against the Regime.

De voor-en nadelen van bijvoorbeeld de militaire optie worden besproken, maar ook die van de manier waarop de Obamaregering Iran nu openlijk benadert. De opstellers van het rapport schrijven: 'For those who favor regime change or a military attack on Iran (either by the United States or Israel), there is a strong argument to be made for trying this option first'. Om vervolgens beide opties nader te belichten: 'The ideal scenario in this case would be that the United States and the international community present a package of positive inducements so enticing that the Iranian citizenry would support the deal, only to have the regime reject it. In a similar vein, any military operation against Iran will likely be very unpopular around the world and require the proper international context— both to ensure the logistical support the operation would require and to minimize the blowback from it'.

Het rapport vervolgt: 'The best way to minimize international opprobrium and maximize support (however, grudging or covert) is to strike only when there is a widespread conviction that the Iranians were given but then rejected a superb offer—one so good that only a regime determined to acquire nuclear weapons and acquire them for the wrong reasons would turn it down'. Eerder beschreef ik al dat deze Obamamanier van werken eruit ziet als een wolf in schaapskleren en in het geval van Iran inderdaad kan leiden tot een militair conflict: 'Iran beseft dat het zonder het nucleaire programma niet meetelt en nooit de rol kan krijgen die het wil in de regio. Daarmee heeft het geen bewegingsruimte. Tegelijk lijkt Amerika aan te geven niet te willen bewegen in de positie ten opzichte van Iran: Iran mag geen nucleaire staat worden. Als het onbewegelijke Iran niet kan ingaan op het gebaar van de onbewegelijke Obama, kan de Amerikaanse president in een later stadium altijd nog zeggen dat hij er alles aan heeft gedaan om Iran de hand te reiken'. Het rapport: 'Under those circumstances, the United States (or Israel) could portray its operations as taken in sorrow, not anger, and at least some in the international community would conclude that the Iranians "brought it on themselves" by refusing a very good deal. [...] President Obama has steadfastly refused to rule out the military option, which also means that he and his advisers recognize that under certain circumstances, the United States will at least have to consider Airstrikes or even the full-scale Invasion option if the Iranians prove unwilling to compromise'.

Wat in alle commotie niet moet worden vergeten, is te zoeken naar een antwoord op de vraag hoe groot de kans is dat niet de zittende president Ahmadinejad heeft gewonnen, maar zijn tegenstrever, de voormalig premier van Iran, Mousavi. Voorafgaand aan de verkiezingen is een aantal peilingen gedaan in Iran, door een westerse organisatie. Twee mensen die de peilingen hebben uitgevoerd, schrijven in een artikel in de Washington Post dat in hun 'nationwide public opinion survey of Iranians three weeks before the vote showed Ahmadinejad leading by a more than 2 to 1 margin -- greater than his actual apparent margin of victory in Friday's election'. Hoe het werkelijk zit, is moeilijk te achterhalen. Ook zijn de meningen verdeeld. Professor James

Petras schrijft een artikel met de kop Iranian Elections: The 'Stolen Elections' Hoax, terwijl een andere professor, de in het vorige deel genoemde Juan Cole, van mening is dat de verkiezingen zijn gestolen.

In de westerse politiek en media werd soms heel openlijk meegedacht met de demonstranten in Iran: 'US Senators bluntly charged Thursday that Iran's presidential vote was rigged and vowed to help the opposition defeat curbs on news and the social networking Internet sites it has used to organize', schrijft persbureau AFP. De vraag van de week op CNN bij Fareed Zakaria GPS op zondag 21 juni is: 'After this extraordinary week of demonstrations, crackdowns and violence in Iran , what do you think people from outside can do to help those inside Iran who want change? Let us know what you think'. En iets actiever [video, 9'45]: een tv-station in Los Angeles maakt niet alleen programma's in Farsi, maar deelt ook 10.000 camerapennen uit aan mensen in Iran.

Voormalig Brits inlichtingenmedewerker en directeur van het Conflicts Forum in Beiroet, Alastair Crook, ziet een diepere laag in de actuele ontwikkelingen rond Iran. Hij schrijft dat de opstand in Iran de afspiegeling is van een strijd in de hoogste regionen. Tussen voor- en tegenstanders van

president Ahmadinejad, die optreedt tegen een deel dat volgens hem doet aan zelfverrijking: '[...] it is clear that a powerful determination has emerged to exorcise the Rafsanjani-Khatami circles from the establishment, fueled by a growing popular anger as the evidence of their external links to the West is being carefully examined. [...] It was this group of powerful clerics that stood behind the Moussavi challenge to Mr. Ahmadinejad [...]. Paradoxically, the Western understanding that Mr. Ahmadinejad is a tool of the clerical leadership who stands with the repressive Revolutionary Guard and Basij (the popular militia) against reform could not be more wrong. It was Mr. Ahmadinejad who campaigned against the wealth and self-interest of some of the clerical elite. Mr. Moussavi was more closely allied to those interests'. Kortom, president Ahmadinejad zou hervormingen, een purificatie willen hebben doorvoeren en werd daarbij dwarsgezeten door Mousavi en de kringen van de voormalig presidenten Rafsanjani en Khatami, aldus Crook.
DeepJournal
Sign up
for the free mailing list.
Why is Syria under attack? - Part 4
'Syria' is about power, money, influence and energy
Why is Syria under attack? - 3
Syria and Iran are like pieces on a geopolitical chessboard
Why is Syria under attack? - Part 2
On the interests of the parties involved in the Syrian conflict and the role of the media
Why is Syria under attack? - Part 1
Who is behind the chemical weapons attack in Syria?
Albert Spits: Creëer je eigen financiële veiligheid
Beluister het interview
Belangenverstrengelingen ook bij Mexicaanse griepprik